Fill management
---
---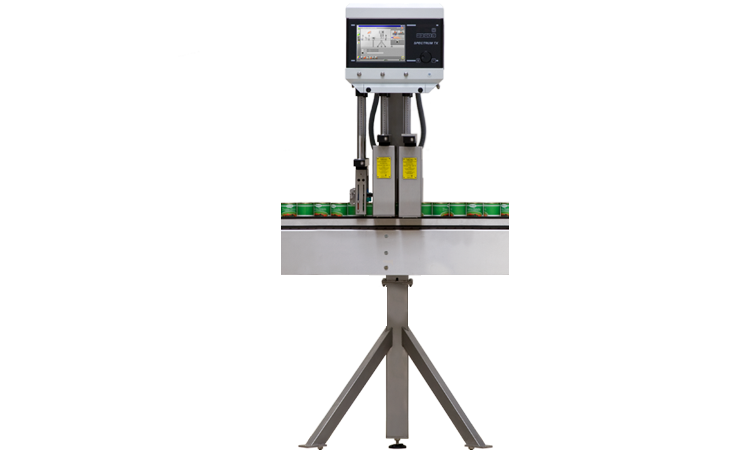 HEUFT SPECTRUM VX
Finding fill level and closure faults and exposing the causes: filler and closer management.
Ensuring highest product quality with maximum filler and closer efficiency – the HEUFT SPECTRUM VX manages it! Proven functions for checking and inspecting full containers safeguard the quality of the products. The system uncovers losses in filler and closer performance before this can impair the efficiency of the complete line using an integrated quantifying system, serial fault detection and continuous monitoring.
Fill level detection
Finding underfills and overfills reliably: the right technology for each application.
Too little, too much or exactly right: the HEUFT SPECTRUM VX can be perfectly equipped with different detection modules for a precise fill level detection.
Read more...
It checks the filling quantity of transparent containers with special optical procedures highly precisely. The high frequency measurement provides exact results for all types of non-metal containers. X-ray technology for determining the filling quantity exactly is used if the containers are opaque. An integrated quantifying module converts the results of the individual fill level measurements automatically into the actual fill value and calculates the average fill volume.
Closure detection
Ensuring tightness: different possibilities for a closure detection.
Effective, reliable and precise: different technologies for a closure detection can be integrated into the system due to its modular construction.
Read more...
It can check the presence, position, completeness, integrity and brand affiliation of the closures precisely with special sensor, camera or ultrasonic technology depending on the requirements. Thus it provides the best results for every application and safeguards the tightness of the container sustainably as well as the quality of the product contained in it.
Filler and closer management
Finding faults and exposing the causes: monitoring the filler valves and the closer heads.
Detecting, monitoring and locating: finding faulty filling and closure faults reliably is one thing. However it is just as important to uncover their causes at an early stage for the sustainable safeguarding of product quality and productivity.
Read more...
The HEUFT SPECTRUM VX takes over the monitoring of the fill valves and closure heads for this purpose. It monitors their performance continuously and provides exact statistical data. Malfunctions which can cause serial faults are therefore identified in good time. The system already exposes defective valves and closure heads before they completely fail. This permanent filler and closer management system is a valuable tool for preventive maintenance.
Automatic sampling
Checking production quality regularly: exemplary sampling.
Controlled, individual and representative: the HEUFT SPECTRUM VX carries out exemplary sampling for internal quality assurance purposes. Cross-sectional sampling of production is possible due to the freely definable rejection of the desired number of containers or a whole series of containers in succession.
Read more...
These can be selected separately for targeted sampling in order to check individual filler valves or closer heads specifically. In addition it is also possible to define particular conditions such as minimum speed in order to take representative samples under standard production conditions.
Container distribution
Dividing up the production flow: distribution onto several lanes.
Specific, smooth and effective: the HEUFT SPECTRUM VX distributes the container flow onto up to seven transport lanes if required. The distribution ratio is freely selectable and adjustable. Special jam switches ensure an even utilisation of the lanes – they identify full conveyor sections and exclude them from the laning process. The result: considerably better efficiency for the whole line.
Fault rejection
Preventing recalls: the reliable rejection of faulty containers.
Fast, careful and accurate: highest precision when detecting faults is only effective if the products in question are also removed afterwards. The single-segment and multi-segment rejection systems of the HEUFT rejector series deal with this both precisely and carefully.
Product monitoring and self-tests
Playing it safe: exact product tracking and regular self-tests.
Always knowing the current location of a particular product: each one is tracked precisely for this. This ensures that none remain uninspected.
Read more...
The integrated reject verification checks that each product identified as faulty is really removed. Standard test programs guarantee a regular examination of the detection performance. Network-based continuous documenting and long-term archiving of the results.
Optional additional functions
Detecting even more: extensions to the range of functions.
The HEUFT SPECTRUM TX systems with their modular design can be extended at any time. Therefore the range of functions of the HEUFT SPECTRUM VX can be extended with technologies for checking the presence and position of labels. Furthermore the following can be integrated without any problems: the HEUFT vio OCR for an optical inspection of best-before dates and barcodes.
Read more...
In addition the HEUFT VISION module carries out a high-precision optical closure inspection as an option. The HEUFT sonic checks the tightness of metal closures. This can also be optimally achieved when extending it with the HEUFT magnetic tracking when the closures of different manufacturers are used.
HEUFT SPECTRUM TX
Controlling centrally: one platform for all requirements.
Precise, network-compatible and cross-system: the HEUFT SPECTRUM TX forms the basis for different technologies, modules and functions. The devices of the generation of the same name can be exactly adapted to individual requirements on site and retrofitted at any time due to this universal platform.
Read more...
A cross-system component equality of 70 per cent ensures a high availability of spare parts. The central HEUFT SPECTRUM TX control unit creates a high level of precision during continuous product tracking and quality assurance due to its multiprocessing capability. A future-proof network connection ensures reliable remote maintenance and production data acquisition for optimum efficiency and productivity. In-house developed hardware and software and its own operating system ensure computing power and offer no opportunity for viruses or malware.
HEUFT reflexx
Combining photographs and reliably detecting objects: image processing in real time.
Fast, powerful and exact: combining several camera and X-ray images with each other and specifically detecting various objects. The HEUFT reflexx carries out all this in real time.
Read more...
The in-house developed hardware and software provides high computing capacity and is exactly tailored to the requirements of the in-line quality inspection. It generates high-resolution, noiseless detection pictures and analyses them precisely. Integrated filter technologies clearly differentiate between supposed and actual faults. This reduces the false rejection rate sustainably.
HEUFT PILOT
Operating HEUFT systems reliably: graphical user interface with practical tools.
Clear, helpful and specific: the HEUFT PILOT graphical user interface convinces due to an easy to understand, multilingual menu structure with extensive auxiliary tools. Therefore the reliable operation of the HEUFT SPECTRUM TX systems is not difficult.
Read more...
Important information and clear error messages with service notes provide the respective user with specific support. This avoids incorrect adjustments and shortens standstills e.g. during brand changes. Password protected operator levels adapted to the respective area of responsibility also contribute to this. Also integrated: a complete online user manual and a tool for the uncomplicated identification and direct ordering of spare parts.
Network technologies
Networking everything: online connection for increased efficiency and quality.
Information transmission in real time, production data acquisition, line analysis and remote maintenance: networking is the answer!
Read more...
HEUFT systems have future-proof network interfaces (Gigabit Ethernet and TCP / IP) for an online connection via the Internet and the database interface (SQL / DDE) for top line efficiency and an optimum quality management with considerably faster and easier workflows. Therefore production data, shift records, productivity faults and HACCP limit value analyses are available network-wide. The result: early identification of quality and efficiency problems. The firewall protected direct connection to the HEUFT TeleService makes competent remote maintenance possible all around the clock.
HEUFT rejector
Removing faulty products: the right rejector for all cases.
For example, the single segment HEUFT flip and HEUFT mono rejectors as well as the multi-segment HEUFT DELTA-K and HEUFT DELTA-FW systems are ideally suited for the HEUFT VX.
reliable identification of all the critical faults during the filling process
avoidance of costly production downtimes due to the early diagnosis of filler and closer malfunctions
optimal instrument for preventive maintenance
reliable determination and statistical processing of the average fill volume
performance range – up to 100,000 containers per hour
minimisation of the false rejection rate up to 0.01%