Inspezione die corpi estranei
---
---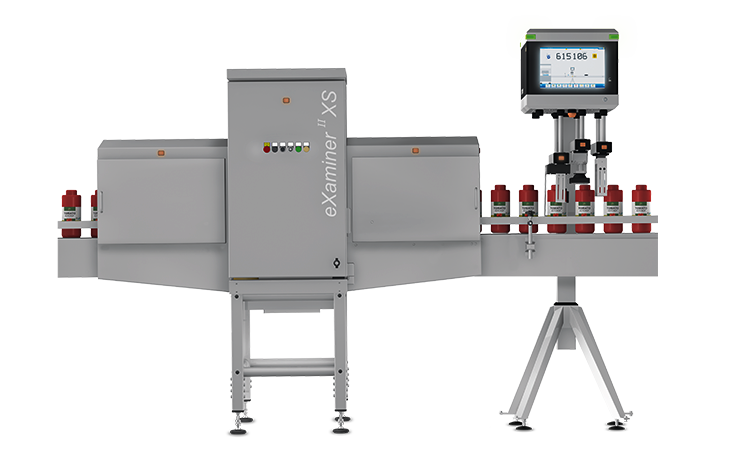 HEUFT eXaminer II XS
Rilevare tutto anche dove lo spazio è limitato: un ispettore compatto, dotato di tecnologia a raggi X intermittenti basato sull'unità di controllo HEUFT SPECTRUM II
La soluzione salva-spazio della tecnologia a raggi X intermittenti, disponibile esclusivamente da HEUFT, per il rilevamento scrupoloso e preciso di pericolosi corpi estranei in bottiglie, imballi compositi, lattine ad uso alimentare e pouches: il compatto sistema stand-alone HEUFT eXaminer II XS rende possibile tutto questo!
Ispezione delle pareti senza punti ciechi
Un esame continuo: doppi raggi X stroboscopici per una copertura completa.
Pezzi di metallo, pietre e frammenti di plastica dura: questi corpi estranei ad alta densità sono una minaccia per la sicurezza alimentare. Che siano nascosti sul fondo piatto dell'imballo o nell'area difficile da ispezionare della linea di riempimento: Il compatto HEUFT eXaminer II XS li può rilevare ovunque! Due flash di raggi X posizionati ad hoc in alloggiamenti estremamente compatti si occupano dell'ispezione delle pareti direttamente sul nastro trasportatore e coprono l'intero volume dei contenitori pieni. Il primo flash di raggi X è allineato orizzontalmente sul fondo del contenitore e lo illumina obliquamente verso l'alto, coprendolo dal fondo fino a metà altezza circa. Il secondo flash, allineato orizzontalmente sul livello di riempimento, illumina l'area restante obliquamente verso il basso, rende visibili anche i più piccoli contaminanti intorno alla linea di galleggiamento ed esegue un primo rilevamento del livello di riempimento. Deviazioni rispetto alla forma della confezione, come ad esempio variazioni dello spessore del fondo, vengono rilevate, misurate e compensate dinamicamente durante la fase di elaborazione delle immagini. La doppia ispezione delle pareti tramite raggi X pulsanti, tecnologia disponibile esclusivamente da HEUFT, consegue la massima affidabilità di rilevamento anche in questi casi.
Fault rejection
Preventing recalls: the reliable rejection of faulty containers.
Fast, careful and accurate: highest precision when detecting faults is only effective if the products in question are also removed afterwards. The single-segment and multi-segment rejection systems of the HEUFT rejector series deal with this both precisely and carefully.
Product monitoring and self-tests
Playing it safe: exact product tracking and regular self-tests.
Always knowing the current location of a particular product: each one is tracked precisely for this. This ensures that none remain uninspected.
Read more...
The integrated reject verification checks that each product identified as faulty is really removed. Standard test programs guarantee a regular examination of the detection performance. Network-based continuous documenting and long-term archiving of the results.
Funzioni aggiuntive opzionali
Rilevare ancora di più grazie all'estensione della gamma di funzioni.
I sistemi HEUFT SPECTRUM II con il loro design modulare si possono espandere in qualsiasi momento. Anche il compatto HEUFT eXaminer II XS è basato sulla piattaforma di nuova generazione. Il terminale di controllo HEUFT SPECTRUM II con la sua unica interfaccia uomo-macchina si può posizionare con flessibilità ovunque sul nastro trasportatore ed occupa anche meno spazio degli alloggiamenti per i generatori dei raggi X. Pertanto si possono integrare facilmente ulteriori funzioni di rilevamento: ad esempio un secondo modulo di controllo livello, la verifica della pressione interna del contenitore, la verifica della presenza di chiusure, etichette e marcature. In questo modo è possibile rilevare con affidabilità una vasta gamma di difetti che minano la sicurezza e la qualità del prodotto e, nello stesso processo lavorativo, espellere i contenitori trovati difettosi.
HEUFT SPECTRUM

II
Simply automating: universal device platform for maximum performance.
Highly automated, universal and powerful: the HEUFT SPECTRUM II ensures optimum detection and operational reliability during an in-line quality assurance for the sustainable safeguarding of product quality and line efficiency.
Read more...
The cross-system control unit with multiprocessing capability for different modules, systems and applications convinces due to its exceptional degree of automation. Brand and format changes can be carried out without manual intervention. The unique human machine interface of the universal device platform is self-explanatory. Human resources are effectively saved in this way. In-house developed hardware and software of the latest generation and a future-proof network connection achieve highest computing power and data transmission in real time. The result: maximum precision during purposeful product tracking, inspection and rejection.
HEUFT reflexx²
Simply detecting more: real-time image processing with individual teaching in procedure.
Fast, high-resolution and smart: the new generation of in-house developed hardware and software for image processing provides four times the processor speed of its predecessor. It converts the images of the individual camera or X-ray units into high-resolution, noiseless detection pictures in real time.
Read more...
At the same time the HEUFT reflexx² not only carries out the specific detection of the most varied objects but also their individual classification using up to 50 different characteristics such as size or texture: uncritical characteristics can be quite simply taught in as good objects. The containers in question are therefore no longer rejected. Only that which really has to be removed is rejected. This reduces the false rejection rate and upholds the efficiency and productivity of the complete filling line.
HEUFT NaVi
Simply knowing what to do: self-explanatory audiovisual user guidance.
Intuitive, individual and audiovisual: previous knowledge is not required in order to operate the HEUFT SPECTRUM II systems reliably. The HEUFT NaVi user guidance is self-explanatory and supports the respective user step by step.
Read more...
An RFID login with user-related access rights provides an overview and makes the respective user's work simply easy: he only sees what he really needs to on the clearly arranged touchscreen user interface with a flat menu structure, integrated tutorials and precise auxiliary tools in order to fulfil his specific tasks optimally. He is supported by a virtual assistant in the course of this. She speaks to him and clearly explains what has to be done when and where. Purposeful and focussed on the essentials – the audiovisual HEUFT NaVi user guidance makes the reliable operation of HEUFT systems simply easy!
HEUFT checkPoints
Simply seeing where what has to be done: trouble-free localisation.
Clear, direct and purposeful: the user can cope immediately on the rare occasions when manual intervention is needed. Because eye-catching HEUFT checkPoints make it clear at a glance exactly when it is necessary to take matters in hand in addition to the audiovisual information which the HEUFT NaVi provides.
Read more...
The orange tags not only flash on the touchscreen but also at the respective component if the worst comes to the worst. The problem is located without a long search. This saves time and human resources, shortens standstills and therefore increases productivity.
Network technologies
Networking everything: online connection for increased efficiency and quality.
Information transmission in real time, production data acquisition, line analysis and remote maintenance: networking is the answer!
Read more...
HEUFT systems have future-proof network interfaces (Gigabit Ethernet and TCP / IP) for an online connection via the Internet and the database interface (SQL / DDE) for top line efficiency and an optimum quality management with considerably faster and easier workflows. Therefore production data, shift records, productivity faults and HACCP limit value analyses are available network-wide. The result: early identification of quality and efficiency problems. The firewall protected direct connection to the HEUFT TeleService makes competent remote maintenance possible all around the clock.
HEUFT rejector
Removing faulty products: the right rejector for all cases.
Ad esempio, gli espulsori a singolo segmento HEUFT flip e HEUFT mono così come quelli a multi segmento HEUFT HEUFT DELTA-K e HEUFT DELTA-FW sono particolarmente ideali per l'affidabile espulsione di contenitori pieni che presentano corpi estranei.
dispositivo estremamente compatto e ottimizzato per l'igiene secondo lo standard HEUFT CleanDesign per la massima affidabilità di rilevamento dove lo spazio a disposizione è limitato
piena sicurezza alimentare garantita grazie alla speciale tecnologia a raggi X stroboscopici e al rilevamento preciso e scrupoloso di corpi estranei direttamente sul nastro trasportatore
dal fondo alla linea di riempimento – ispezione completa del contenitore senza punti ciechi
immagini ad alta risoluzione senza deformazioni e sfocature
affidabile rilevamento di corpi estranei anche in aree difficili da esaminare
compensazione dinamica di deviazioni come variazioni di spessore nel fondo dei contenitori
minima percentuale di falsi scarti grazie alla chiara differenziazione tra corpi estranei realmente pericolosi e innocue disomogeneità del prodotto e delle strutture dei contenitori
prestazioni di rilevamento ancora più elevate grazie alla speciale combinazione di raggi X pulsanti, disponibili solo presso HEUFT, e convertitori di immagini allo stato dell'arte
facile estensione della gamma di funzioni grazie alla possibilità di aggiungere ulteriori moduli di rilevamento
unità di controllo totalmente automatizzata HEUFT SPECTRUM II con interfaccia utente auto esplicativa HEUFT NaVi per una operatività priva di errori
regolazione automatica dei moduli di rilevamento durante i cambi formato
sicura connessione alla rete per la tele-assistenza e l'acquisizione dei dati di produzione