Container transport
---
---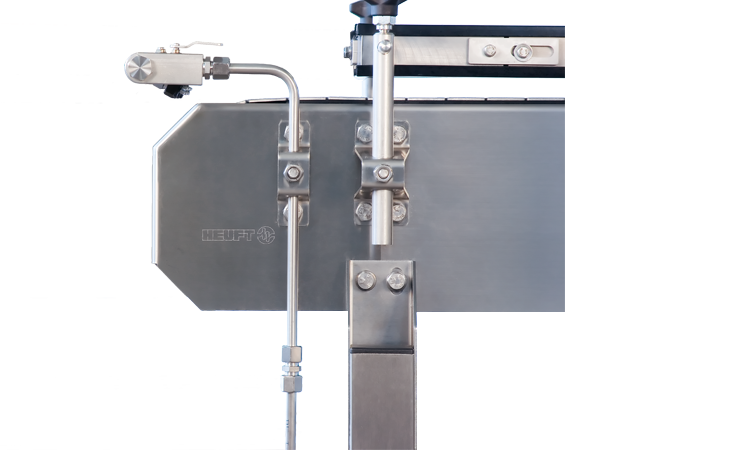 HEUFT conveyor
Transporting containers carefully and safely: efficient solutions for every line.
The HEUFT conveyor container transport system transports all types of empty and full individual containers particularly quickly and carefully along your filling line. Whether a single lane or multi lanes – the HEUFT solution is impressive due to its high level of flexibility: it is suitable for every filling line and ensures that containers are transported reliably and efficiently even where the demands are high. The HEUFT conveyor withstands the greatest loads and is easy to clean due to its robust and open construction.
Container transport
Transporting containers safely along the line: single-lane or multi-lane transport.
Careful, efficient and quiet: all types of containers are transported safely along the filling line on one or more lanes with the HEUFT conveyor. The system which consists of particularly robust material can be assembled individually and optimally adapted to on-site conditions.
Read more...
Whether replanning or restructuring – high-quality components, such as magnetically stabilised chains, guide rails with container-friendly plastic profiles and robust conveyor supports, can be added to the complete line in a space-saving and compact manner. All the parts have an open design and are optimised for cleaning in the course of this so that contaminants have no chance.
This makes the single-lane or the multi-lane container transport extremely quiet, safe and clean.
Line analyses
Advising intensively and planning competently: optimised efficiency for all requirements.
Detailed line analyses, intensive advice and exact planning result in individual transport solutions which will fulfil your special requirements completely. A large number of different components and curve radii as well as the choice between open and closed cable routing ensure an optimal adaptation to the prevailing conditions on site. The competent HEUFT team of experts supports you from planning to installing in order to guarantee an ideal container transport.

a particularly careful and low-noise container transport
adaptation to different spatial and hygienic conditions
curved guide rails which can be adjusted without the use of tools
open conveyor heads
extremely compact and space-saving design
robust, open construction optimised for maintenance and cleaning
detailed advice and planning by the HEUFT team of experts
the development of individual solutions for specialised tasks
problem-free integration into the existing conveyor systems of other manufacturers