Curve rejector
---
---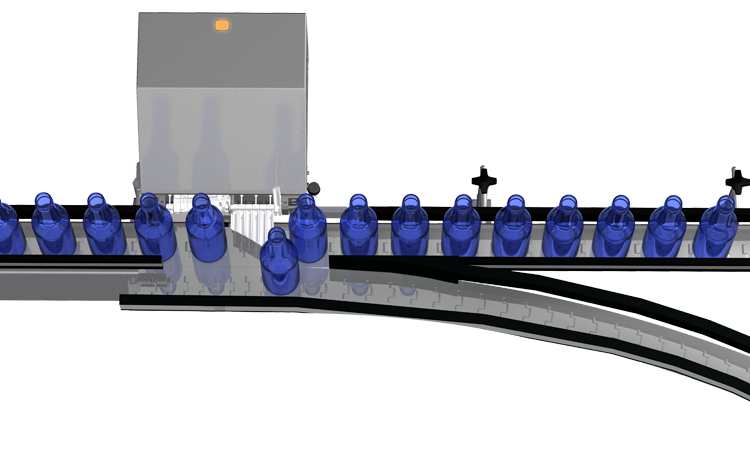 HEUFT LAMBDA-K
Space-saving and removing without falling over: upright high-speed rejection in a confined space.
The HEUFT LAMBDA-K is the slim alternative to conventional rejectors with oversized rejection tables. The extremely compact complete system carries out a careful upright rejection of faulty or non-brand bottles and cans in the smallest of spaces. It even removes wobbly containers such as empty PET bottles on unstable bases from the production flow of high-speed lines with little space accurately, carefully and steadily.
Fault rejection around a curve
Minimising resistance: gentle redirection.
Smooth, intelligent and compact: the HEUFT LAMBDA-K combines ingenious conveyor mechanics with a clever conveyor control system and a specially adapted version of the proven HEUFT DELTA-K folding rejector in order to gently redirect non-brand as well as faulty empty and full containers and transport them whilst standing upright onto a slim, curved conveyor even in the high-speed areas of filling lines with limited space.
Read more...
The bottles or cans pass through the rejection system equipped with up to 16 individually folding out segments in an upright position on a single-lane conveyor which is adjusted in real time. The optimised segment tips form a harmonic rejection curve when a container arrives there which has been identified as faulty. The respective rejection segments only touch the container very briefly – the complete contour which they form minimises its resistance with a lasting effect. Even unstable PET bottles with wobbly bases are redirected smoothly and carefully without falling over – but not onto a bulky rejection table requiring an unnecessarily large amount of space but onto an extremely compact single-lane, curved conveyor which simply fits into every line.
Simple brand changes
Changing over easily: precise adjustment.
Uncomplicated, fast and highly precise: the HEUFT LAMBDA-K can be adapted to the changed types and formats of beverage containers with different centres of gravity during brand and program changes in just a few simple steps. The individual HEUFT DELTA-K rejection segments have to hit the correct spot precisely and in a controlled manner and form a rejection curve which is exactly adapted to the new brand so that they can then also be redirected without wobbling. The required vertical and horizontal adjustment is easy and highly precise due to the auxiliary digital display.
Compact construction
Space-saving arrangement: upright rejection in a confined space.
Single-lane, slim and perfect fit: the HEUFT LAMBDA-K also fits perfectly into areas of the line where space is limited. The robust HEUFT conveyor system for a dynamic container transport is so slim that it only takes up very little space. It no longer continues in a straight line initially behind the HEUFT DELTA-K multi-segment rejection system, which also has a particularly compact design, but follows a curve so that the area required for the reliable installation of the compact complete system consisting of ingenious conveyor mechanics, proactive conveyor control and accurate, gentle rejection is reduced to a minimum. This allows it to be integrated into the tightest of spaces – even along existing filling and packaging lines at a later stage!
high-speed rejection in a confined space

gentle upright redirection of unstable empty and full containers without wobbling or falling over

the HEUFT DELTA-K multi-segment rejection system with specially adjusted, adaptive segment tips for minimum container resistance and a particularly harmonic rejection curve

space-saving conveyor mechanics and intelligent conveyor control

compact complete system

uncomplicated integration into new and existing filling lines

easy and fast brand changes

performance range – up to 60,000 empty and full containers per hour