Full container check
---
---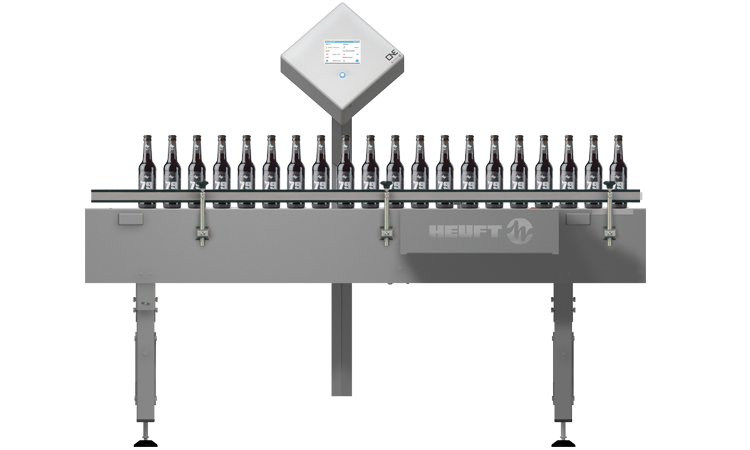 HEUFT ONE
Your affordable entry to genuine high-tech for checking full containers on a HEUFT level.
Affordable, space-saving and flexible: the extremely compact entry-level devices of the new HEUFT ONE series set standards in terms of detection accuracy, operational reliability and price / performance ratio when checking full containers in a confined space. The network-compatible complete solution fits into even the smallest installation space due to combined detection and evaluation modules (e.g. for a precise fill level, closure and label check directly on the conveyor) which are connected to a space-saving, freely positionable control unit.
Combined detection and evaluation modules
Finding and assessing: everything at once and everything in a confined space.
Powerful, clever and space-saving: the HEUFT ONE fits into even the smallest installation spaces. Compact modules directly at the conveyor not only carry out the detection but at the same time the assessment and evaluation of the detected deviations too. The measuring results are already converted into good or faulty signals there and passed on to the control terminal. Therefore this does not have to be installed in the immediate vicinity. In fact it can be positioned anywhere along the line. The entry-level device for a reliable full container check can also be integrated into smaller filling lines without a problem.
Compact, freely positionable control unit
Accommodating flexibly: compact terminal with easy HEUFT NaVi user interface.
Location-independent, clear and very easy: it is not difficult to use the HEUFT ONE. The compact, freely positionable control terminal has a clear five inch display with intuitively understandable HEUFT NaVi user interface. Warning lights provide information about the current device status as an option. In this way an overview is kept and the full container check can be operated safely and reliably without extensive previous knowledge.
​
Network technologies
Networking everything: online connection for increased efficiency and quality.
Information transmission in real time, production data acquisition, line analysis and remote maintenance: networking is the answer!
Read more...
HEUFT systems have future-proof network interfaces (Gigabit Ethernet and TCP / IP) for an online connection via the Internet and the database interface (SQL / DDE) for top line efficiency and an optimum quality management with considerably faster and easier workflows. Therefore production data, shift records, productivity faults and HACCP limit value analyses are available network-wide. The result: early identification of quality and efficiency problems. The firewall protected direct connection to the HEUFT TeleService makes competent remote maintenance possible all around the clock.
​
HEUFT rejector
Removing faulty products: the right rejector for all cases.
For example, the single-segment HEUFT flip and HEUFT mono rejectors as well as the multi-segment HEUFT DELTA-FW and HEUFT DELTA-K systems are ideally suited for the reliable rejection of faulty full containers.
space-saving full container check on a HEUFT level
genuine high-tech at an unbeatable price / performance ratio
compact complete solution comprising innovative detection technologies
in-house developed hardware and software and proven procedures for highly precise product tracking, inspection and fault rejection
easy to integrate stand-alone system with flexible detections directly at the conveyor connected to a freely positionable control unit
reliable quality check of up to 72,000 filled beverage containers per hour