Full container inspection
---
---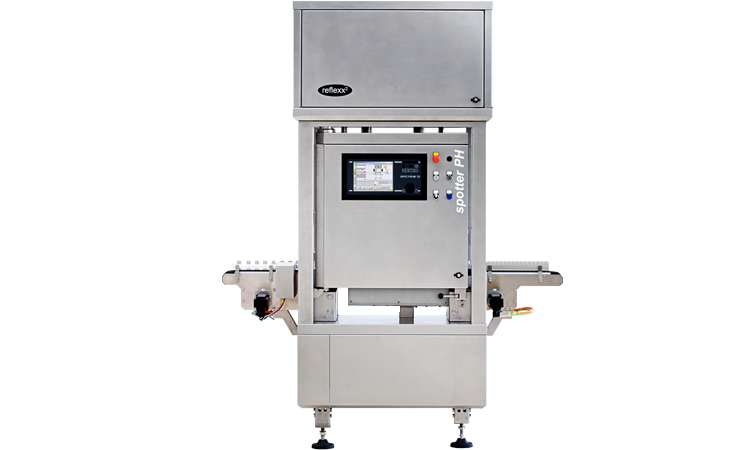 HEUFT spotter PH
Complete inspection in a straight-through system: high throughput and maximum safety.
The HEUFT spotter PH checks pharmaceutical containers such as ampoules or vials filled with parenteral drugs and other pharmaceutical products for foreign matter, contaminants, damage, closure faults and brand purity. The end of line system, as a straight-through device without change parts, is impressive not only due to its precision when detecting faults but also its high throughput rates and fast brand change at the touch of a button.
Optical complete inspection
Finding foreign matter, contaminants and defects: specific identification and timely rejection.
Floating, lying and sticking: the HEUFT spotter PH tracks down minute particles of foreign matter and contaminants such as floating particles or glass splinters inside pharmaceutical containers filled with transparent liquids. The same applies to deviations in shape, chips, scratches or cracks with regard to the container itself.
Read more...
The system even identifies burn marks, among other things, during the ampoule tip inspection. Missing, damaged or non-brand vial crimp caps cannot escape the complete inspection either. In addition containers are detected the fill levels of which deviate from the nominal volume. This is achieved using servo technology for the specific alignment of the containers, an illumination without reflections or shadows and specially positioned high-performance cameras. The HEUFT reflexx² image processing system combines and analyses the detection pictures in real time in the course of this.
Easy brand changes
Changing automatically: servo-controlled adjustment of the conveyor belt.
Automatic, fast and easy: the HEUFT spotter PH not only carries out a specific rotation and an exact alignment of the containers for an optimal complete inspection with innovative servo technology.
Read more...
In addition it adapts the height and width of the conveyor belt as well as the positions of the cameras exactly to the changed format during brand changes. This is achieved completely automatically due to clearly reproducible brand adjustments. As a result this reduces the need for manual intervention, economizes on human resources and not only saves time but money as well: efficiency and productivity losses due to lengthy changeover times are sustainably decreased.
Product monitoring and self-tests
Playing it safe: exact product tracking and regular self-tests.
Always knowing the current location of a particular product: each one is tracked precisely for this. This ensures that none remain uninspected.
Read more...
The integrated reject verification checks that each product identified as faulty is really removed. Standard test programs guarantee a regular examination of the detection performance. Network-based continuous documenting and long-term archiving of the results.
HEUFT SPECTRUM TX
Controlling centrally: one platform for all requirements.
Precise, network-compatible and cross-system: the HEUFT SPECTRUM TX forms the basis for different technologies, modules and functions. The devices of the generation of the same name can be exactly adapted to individual requirements on site and retrofitted at any time due to this universal platform.
Read more...
A cross-system component equality of 70 per cent ensures a high availability of spare parts. The central HEUFT SPECTRUM TX control unit creates a high level of precision during continuous product tracking and quality assurance due to its multiprocessing capability. A future-proof network connection ensures reliable remote maintenance and production data acquisition for optimum efficiency and productivity. In-house developed hardware and software and its own operating system ensure computing power and offer no opportunity for viruses or malware.
HEUFT reflexx²
Simply detecting more: powerful real-time image processing.
Fast, with high resolution and smart: the new generation of in-house developed hardware and software for image processing provides four times the processor speed of its predecessor. It converts the images of the individual camera or X-ray units into high-resolution, noiseless detection pictures in real time. The result: maximum detection reliability with a minimum false rejection rate. Only those ampoules and vials are removed from the production flow, by means of an in-house developed rejection system, which are really faulty.
HEUFT PILOT
Operating HEUFT systems reliably: graphical user interface with practical tools.
Clear, helpful and specific: the HEUFT PILOT graphical user interface convinces due to an easy to understand, multilingual menu structure with extensive auxiliary tools. Therefore the reliable operation of the HEUFT SPECTRUM TX systems is not difficult.
Read more...
Important information and clear error messages with service notes provide the respective user with specific support. This avoids incorrect adjustments and shortens standstills e.g. during brand changes. Password protected operator levels adapted to the respective area of responsibility also contribute to this. Also integrated: a complete online user manual and a tool for the uncomplicated identification and direct ordering of spare parts.
Network technologies
Networking everything: online connection for increased efficiency and quality.
Information transmission in real time, production data acquisition, line analysis and remote maintenance: networking is the answer!
Read more...
HEUFT systems have future-proof network interfaces (Gigabit Ethernet and TCP / IP) for an online connection via the Internet and the database interface (SQL / DDE) for top line efficiency and an optimum quality management with considerably faster and easier workflows. Therefore production data, shift records, productivity faults and HACCP limit value analyses are available network-wide. The result: early identification of quality and efficiency problems. The firewall protected direct connection to the HEUFT TeleService makes competent remote maintenance possible all around the clock.
<
complete inspection of the total container volume
extensive base inspection without "blind spots"
maximum detection reliability with a minimum false rejection rate for increased efficiency
optimal container alignment
HEUFT reflexx2 technology for high-performance image processing
linear operation for a high throughput
change parts dispensed with for fast brand changes at the touch of a button and low storage costs
automatic function monitoring by means of integrated tools such as a test container log, container tracking, reject verification and message stack
minimisation of the false rejection rate up to 0.2%