Fill level detection and laning for spray cans
---
---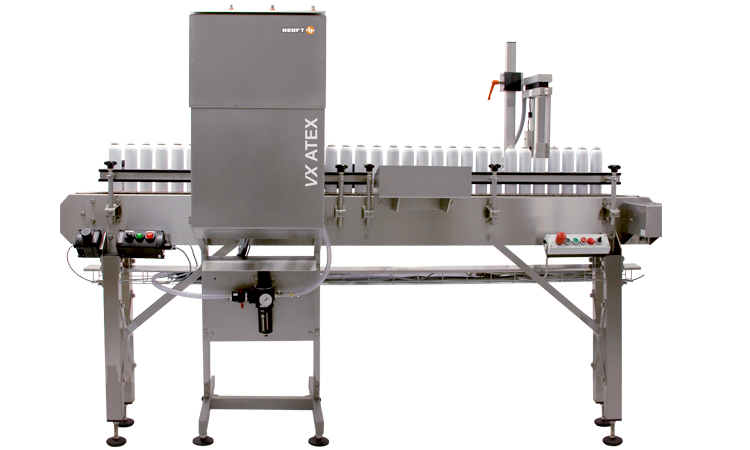 HEUFT VX ATEX
Fill level detection in an explosive atmosphere: risk-free checking in the aerosol section.
Checking the fill height of spray cans and dividing up the container flow – this is even possible in an "explosive atmosphere" with the HEUFT VX ATEX. The system especially developed for the aerosol industry meets the ATEX criteria for use in potentially explosive atmospheres and bears the marking Ex II 3G EEX IIB T4. Therefore it is safe to use in filling areas where a hazardous mixture of air and gas can form.
Fill level detection
Finding underfills and overfills reliably: exact fill level detection in the Ex area.
Exact, risk-free and reliable: there is a risk of losing customer confidence and of serious legal consequences if the fill level is not correct. Therefore it is essential that the containers in question are rejected before they reach the market. Overfills present the greatest risk for a spray can. The HEUFT VX ATEX operates with X-ray technology and therefore supersedes the weighing methods used until now.
Read more...
The strict separation of the control unit and the detection unit makes this possible: whereas the former is outside the hazard zone the latter can operate safely in the risk zones of ATEX Group II / Category 3G. It is optimally protected against heat, electric and electrostatic energy – the risk of explosion has been averted. The device can be equipped with up to two measuring bridges which can identify underfills as well as overfills depending on the size and format of the spray can. The average filling quantity of complete batches can be checked with the integrated quantifying system.
Automatic sampling
Checking production quality regularly: exemplary sampling.
Controlled, individual and representative: the HEUFT VX ATEX carries out exemplary sampling for internal quality assurance purposes. Cross-sectional sampling of production is possible due to the freely definable rejection of the desired number of containers or a whole series of containers in succession.
Read more...
In addition it is also possible to define individual conditions such as minimum speed in order to take representative samples under standard production conditions.
Container distribution
Dividing up the production flow: distribution onto several lanes.
Specific, smooth and effective: the HEUFT VX ATEX distributes the container flow onto up to three transport lanes if required. The distribution ratio is freely selectable and adjustable. Special jam switches ensure an even utilisation of the lanes – they identify full conveyor sections and exclude them from the laning process. The result: considerably better efficiency for the whole line.
Fault rejection
Preventing recalls: the reliable rejection of faulty containers.
Fast, careful and accurate: highest precision when detecting faults is only effective if the products in question are also removed afterwards. The single-segment and multi-segment rejection systems of the HEUFT rejector series deal with this both precisely and carefully.
Product monitoring and self-tests
Playing it safe: exact product tracking and regular self-tests.
Always knowing the current location of a particular product: each one is tracked precisely for this. This ensures that none remain uninspected.
Read more...
The integrated reject verification checks that each product identified as faulty is really removed. Standard test programs guarantee a regular examination of the detection performance. Network-based continuous documenting and long-term archiving of the results.
HEUFT SPECTRUM TX
Controlling centrally: one platform for all requirements.
Precise, network-compatible and cross-system: the HEUFT SPECTRUM TX forms the basis for different technologies, modules and functions. The devices of the generation of the same name can be exactly adapted to individual requirements on site and retrofitted at any time due to this universal platform.
Read more...
A cross-system component equality of 70 per cent ensures a high availability of spare parts. The central HEUFT SPECTRUM TX control unit creates a high level of precision during continuous product tracking and quality assurance due to its multiprocessing capability. A future-proof network connection ensures reliable remote maintenance and production data acquisition for optimum efficiency and productivity. In-house developed hardware and software and its own operating system ensure computing power and offer no opportunity for viruses or malware.
HEUFT PILOT
Operating HEUFT systems reliably: graphical user interface with practical tools.
Clear, helpful and specific: the HEUFT PILOT graphical user interface convinces due to an easy to understand, multilingual menu structure with extensive auxiliary tools. Therefore the reliable operation of the HEUFT SPECTRUM TX systems is not difficult.
Read more...
Important information and clear error messages with service notes provide the respective user with specific support. This avoids incorrect adjustments and shortens standstills e.g. during brand changes. Password protected operator levels adapted to the respective area of responsibility also contribute to this. Also integrated: a complete online user manual and a tool for the uncomplicated identification and direct ordering of spare parts.
Network technologies
Networking everything: online connection for increased efficiency and quality.
Information transmission in real time, production data acquisition, line analysis and remote maintenance: networking is the answer!
Read more...
HEUFT systems have future-proof network interfaces (Gigabit Ethernet and TCP / IP) for an online connection via the Internet and the database interface (SQL / DDE) for top line efficiency and an optimum quality management with considerably faster and easier workflows. Therefore production data, shift records, productivity faults and HACCP limit value analyses are available network-wide. The result: early identification of quality and efficiency problems. The firewall protected direct connection to the HEUFT TeleService makes competent remote maintenance possible all around the clock.
HEUFT rejector
Removing faulty products: the right rejector for all cases.
For example, the single segment HEUFT mono rejector as well as the multi-segment HEUFT DELTA-FW system are ideally suited for the HEUFT VX ATEX.
Single-segment rejectors:
The HEUFT pusher transports full containers with a well-measured push into a bin. The single-segment rejector works precisely and reliably even on high-speed lines with an output of up to 130,000 containers per hour. It shows its true qualities particularly on canning lines.
The HEUFT mono is a cost-effective single-segment rejector which removes full and empty containers reliably. It is ideal for use on filling lines with an output of up to 72,000 containers per hour.
The HEUFT eMono is a clever alternative to the HEUFT mono wherever the use of pneumatically operated rejectors makes no sense for economic or hygienic reasons. It does not need expensive compressed air and practically only uses electricity the moment its rejection segment is extended in order to transport faulty containers onto a rejection table or into a bin. It can even adapt the advance force of the rejection segment to the weight of the packaging during the rejection procedure due to its flexible control system. Faulty containers with different filling quantities are therefore rejected the same distance and taken to exactly the same lane. It achieves a maximum output of up to 180,000 containers per hour depending on the application.
The HEUFT flip is a rejector for full and empty containers of all sizes. In comparison to conventional systems it manages with half the mechanical load of the lifting cylinder. The HEUFT flip is particularly suitable for the reliable upright rejection of light, cylindrical containers on lines with an output of up to 60,000 containers per hour.
Multi-segment rejectors:
The HEUFT DELTA-FW was especially developed for the upright rejection and distribution of round, filled bottles and cans. It has up to sixteen segments forming a rejection curve along which the containers are guided. When a good container follows a faulty container the segments are only extended briefly so that the good container is not touched under any circumstances but the faulty container is rejected at all events. And that at line outputs of up to 150,000 containers per hour.
The HEUFT DELTA-K is ideal for the sorting or upright rejection of empty containers as well as the distribution of empty and full containers. It has up to 16 segments which can be folded out individually so quickly that unsuitable containers can be rejected unproblematically without touching the preceding or subsequent containers. Therefore it only removes faulty products even at high line outputs of up to 72,000 containers per hour.
The HEUFT XY distributes full containers made of PET and glass and even packages onto up to four lanes. Furthermore it sorts empty containers and rejects bottles particularly carefully without changing their alignment. Even very large, extremely lightweight, unstable container types of the most varied shapes do not present its servo-controlled rejection segments a problem. Therefore it is ideal for use on PET lines with a performance range of up to 36,000 containers per hour and on glass lines where up to 60,000 containers per hour are run.
X-ray technology for precisely checking the fill level of aerosol containers
an efficiency increasing alternative to the traditional weighing systems
safe to use in potentially explosive filling areas due to the strict separation of the control unit and the detection unit
maximum detection accuracy independent of the line speed
higher output at lower transport speed due to considerably smaller container gaps
performance range – up to 1,000 containers per minute