Conveyor control system
---
---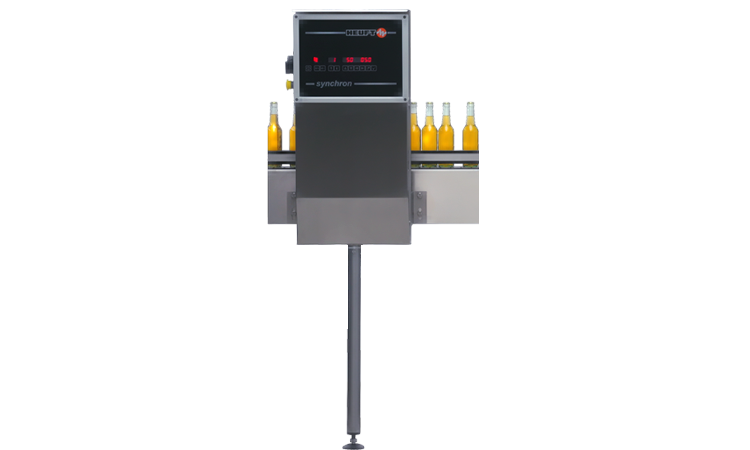 HEUFT synchron TXI
Standstills ruled out: a conveyor control system with vision.
The overall efficiency of your filling line leaves much to be desired even though the individual machines function optimally? Then there is probably a problem with the container flow between the devices. The HEUFT synchron conveyor control system puts things right. It accelerates the containers smoothly, closes gaps, optimises the conveyor speed and increases the efficiency of the complete line.
HEUFT SPECTRUM TX
Controlling centrally: one platform for all requirements.
Precise, network-compatible and cross-system: the HEUFT SPECTRUM TX forms the basis for different technologies, modules and functions. The devices of the generation of the same name can be exactly adapted to individual requirements on site and retrofitted at any time due to this universal platform.
Read more...
A cross-system component equality of 70 per cent ensures a high availability of spare parts. The central HEUFT SPECTRUM TX control unit creates a high level of precision during continuous product tracking and quality assurance due to its multiprocessing capability. A future-proof network connection ensures reliable remote maintenance and production data acquisition for optimum efficiency and productivity. In-house developed hardware and software and its own operating system ensure computing power and offer no opportunity for viruses or malware.
HEUFT PILOT
Operating HEUFT systems reliably: graphical user interface with practical tools.
Clear, helpful and specific: the HEUFT PILOT graphical user interface convinces due to an easy to understand, multilingual menu structure with extensive auxiliary tools. Therefore the reliable operation of the HEUFT SPECTRUM TX systems is not difficult.
Read more...
Important information and clear error messages with service notes provide the respective user with specific support. This avoids incorrect adjustments and shortens standstills e.g. during brand changes. Password protected operator levels adapted to the respective area of responsibility also contribute to this. Also integrated: a complete online user manual and a tool for the uncomplicated identification and direct ordering of spare parts.
Network technologies
Networking everything: online connection for increased efficiency and quality.
Information transmission in real time, production data acquisition, line analysis and remote maintenance: networking is the answer!
Read more...
HEUFT systems have future-proof network interfaces (Gigabit Ethernet and TCP / IP) for an online connection via the Internet and the database interface (SQL / DDE) for top line efficiency and an optimum quality management with considerably faster and easier workflows. Therefore production data, shift records, productivity faults and HACCP limit value analyses are available network-wide. The result: early identification of quality and efficiency problems. The firewall protected direct connection to the HEUFT TeleService makes competent remote maintenance possible all around the clock.
homogeneous bottle flow without gaps or jams
continuous supply to the master machines
optimised efficiency for the complete filling line
effective protection against defects to the bottles and avoidance of noise along the line due to smooth transport and combining without impact pressure
fully compatible with existing PLC systems
turnkey solutions for line optimisation including competent project planning