Full case inspection
---
---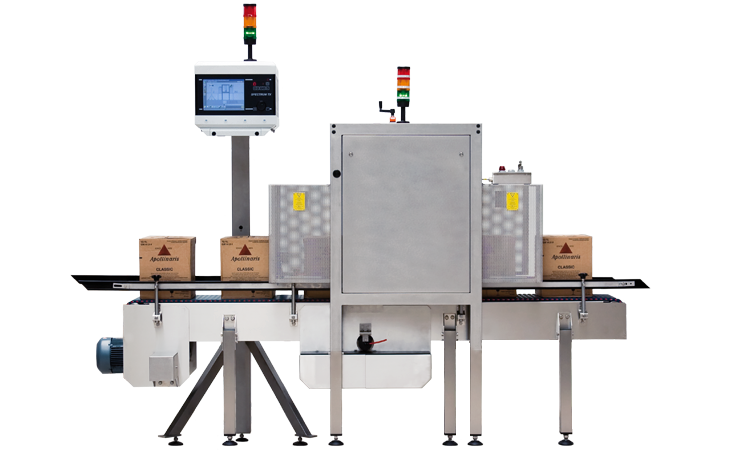 HEUFT GX
Checking outer packaging specifically: precise full case inspection.
The HEUFT GX checks the quality features of newly packed cases, trays and cardboard boxes. It detects external features such as deformations, raised cardboard box flaps, incorrect colours and logos just as reliably as food containers inside the outer packaging which are missing, clearly underfilled, lying, too high or incorrectly closed.
Formüberprüfung
Transportierbarkeit- und Auspackbarkeit sicherstellen: Erkennung verzogener Gebinde.
Stapelbar, transportfähig, funktionell: Vollgebinde sollten in Top-Form sein. Andernfalls lassen sich nicht sicher stapeln, transportieren und lagern. Außerdem erschweren verzogene Umverpackungen die Entnahme der enthaltenen Food-Behälter. Deshalb lässt der HEUFT GX nur Umverpackungen in Top-Form passieren.
Weiterlesen...
Dazu überprüft er sensorisch ihre Dimensionen und Abmessungen. Weichen diese von spezifisch festgelegten Grenzwerten ab, werden die betroffenen Vollgebinde noch vor dem Verladen aus dem Verkehr gezogen.
Kartonklappenkontrolle
Abstehende Deckel erkennen: Überprüfung der Verschlossenheit.
Fehlpositioniert, abstehend, nicht korrekt verschlossen: Ist dies bei Karondeckeln der Fall, sieht das nicht nur unschön aus. Zusätzlich gerät die Wirksamkeit der Umverpackung und die Sicherheit der enthaltenen Produkte in Gefahr. Deshalb überprüft der HEUFT GX die Position und den korrekten Sitz der Klappen und damit die Verschlossenheit des gesamten Gebindes.
Weiterlesen...
Dazu tasten Sensoren dessen Randbereiche ab. Werden sie von abstehenden Deckeln überdeckt, verändern sich die Messwerte. So werden betroffene Umverpackungen sicher detektiert.
Überprüfung des Inhalts
Innere Werte zählen: Kontrolle der Vollzähligkeit der enthaltenen Behälter.
Optisch, induktiv, radiometrisch: Um den Inhalt frisch gepackter Vollgebinde zu überprüfen, lässt sich der HEUFT GX mit verschiedenen Technologien ausstatten.
Weiterlesen...
Die Infraroterkennung checkt die Vollständigkeit der Behälter im Kasten. Dazu macht sich sie sich das Reflexionsverhalten ihrer Verschlüsse zunutze. Bestehen diese aus Metall oder Folie liefern induktive Näherungsschalter präzise Ergebnisse. Die größte Erkennungssicherheit bietet die Röntgenkontrolle. Vor allem bei rundum verschlossenen, intransparenten Umverpackungen ist sie erste Wahl. Fehlen Behälter, ändert sich die Absorptionsgrad des dosiert ausgegebenen Röntgenstrahls. So werden auch liegende und stark unterfüllte, möglicherweise undichte Behälter identifiziert.
Fehlerausleitung
Rückrufe verhindern: Sichere Ausschleusung fehlerhafter Gebinde.
Schnell, schonend, treffsicher: Höchste Präzision bei der Fehlererkennung nützt nur dann etwas, wenn betroffene Produkte anschließend auch aus dem Verkehr gezogen werden. Um lückenhaft befüllte Kästen aus dem Produktionsstrom zu entfernen, gibt das Gerät entweder ein Bandstoppsignal aus oder steuert das passende Ausleitsystem wie beispielsweise den HEUFT xcase an.
Product monitoring and self-tests
Playing it safe: exact product tracking and regular self-tests.
Always knowing the current location of a particular product: each one is tracked precisely for this. This ensures that none remain uninspected.
Read more...
The integrated reject verification checks that each product identified as faulty is really removed. Standard test programs guarantee a regular examination of the detection performance. Network-based continuous documenting and long-term archiving of the results.
Einfache Sortenwechsel
Automatisch umstellen: Selbsttätige Justierung der Erkennungseinheiten.
Zuverlässig, unaufwändig, einfach: Sortenumstellungen verwirklicht der HEUFT GX ohne manuelle Eingriffe. Sämtliche Paramenter werden automatisch angepasst, die Höhe und Position der Erkennungseinheiten motorisch justiert. Fehleinstellungen sind praktisch ausgeschlossen. Das spart wertvolle Zeit und bares Geld.
Optionale Zusatzfunktionen
Noch mehr möglich machen: Erweiterungen des Funktionsumfangs.
Modular aufgebaut, lässt sich der HEUFT GX jederzeit ausbauen. So sind unter anderem folgende Zusatzfunktionen integrierbar:
Weiterlesen...
Die sichere Unterscheidung verschiedener Gebindefarben für höchste Sortenreinheit realisiert ein spezielles Kamerasystem. Damit anders kolorierte Aktionsaufkleber und Symbole das Ergebnis nicht verzerren, lassen sich hierzu drei Messefenster bestimmen.
Die zuverlässige Detektion sortenfremder Logos gelingt ebenfalls optisch. Bis zu sieben verschiedene Logos lassen sich so ablichten und mit dem hinterlegten Original vergleichen.
Die präzise Erkennung und Unterscheidung von Barcode-Etiketten vollzieht eine spezielle Sensorik.
HEUFT SPECTRUM TX
Controlling centrally: one platform for all requirements.
Precise, network-compatible and cross-system: the HEUFT SPECTRUM TX forms the basis for different technologies, modules and functions. The devices of the generation of the same name can be exactly adapted to individual requirements on site and retrofitted at any time due to this universal platform.
Read more...
A cross-system component equality of 70 per cent ensures a high availability of spare parts. The central HEUFT SPECTRUM TX control unit creates a high level of precision during continuous product tracking and quality assurance due to its multiprocessing capability. A future-proof network connection ensures reliable remote maintenance and production data acquisition for optimum efficiency and productivity. In-house developed hardware and software and its own operating system ensure computing power and offer no opportunity for viruses or malware.
HEUFT reflexx
Combining photographs and reliably detecting objects: image processing in real time.
Fast, powerful and exact: combining several camera and X-ray images with each other and specifically detecting various objects. The HEUFT reflexx carries out all this in real time.
Read more...
The in-house developed hardware and software provides high computing capacity and is exactly tailored to the requirements of the in-line quality inspection. It generates high-resolution, noiseless detection pictures and analyses them precisely. Integrated filter technologies clearly differentiate between supposed and actual faults. This reduces the false rejection rate sustainably.
HEUFT PILOT
Operating HEUFT systems reliably: graphical user interface with practical tools.
Clear, helpful and specific: the HEUFT PILOT graphical user interface convinces due to an easy to understand, multilingual menu structure with extensive auxiliary tools. Therefore the reliable operation of the HEUFT SPECTRUM TX systems is not difficult.
Read more...
Important information and clear error messages with service notes provide the respective user with specific support. This avoids incorrect adjustments and shortens standstills e.g. during brand changes. Password protected operator levels adapted to the respective area of responsibility also contribute to this. Also integrated: a complete online user manual and a tool for the uncomplicated identification and direct ordering of spare parts.
Network technologies
Networking everything: online connection for increased efficiency and quality.
Information transmission in real time, production data acquisition, line analysis and remote maintenance: networking is the answer!
Read more...
HEUFT systems have future-proof network interfaces (Gigabit Ethernet and TCP / IP) for an online connection via the Internet and the database interface (SQL / DDE) for top line efficiency and an optimum quality management with considerably faster and easier workflows. Therefore production data, shift records, productivity faults and HACCP limit value analyses are available network-wide. The result: early identification of quality and efficiency problems. The firewall protected direct connection to the HEUFT TeleService makes competent remote maintenance possible all around the clock.
HEUFT case rejector
Fehlerhafte Gebinde aus dem Verkehr ziehen: die passende Ausleitung für alle Fälle.
Ausstoßen, ausschleusen, verteilen: Fehlerhafte Kästen, Kartons, Trays oder Schrumpffolien-Gebinde entfernen HEUFT-Ausleitsysteme für Umverpackungen zuverlässig aus dem Produktionsstrom. Optimal auf ihre jeweilige Aufgabe abgestimmt, erreichen Sie Höchstleistungen in Sachen Präzision und Behutsamkeit.
lückenlose Qualitätssicherung befüllter Umverpackungen
präzise Untersuchung von bis zu 7.200 Vollgebinden pro Stunde
unkomplizierte Integration in bestehende Anlagen
vollautomatische Sortenumstellungen
einfache Auf- und Nachrüstung dank modularer Bauweise
kompakte, einfach zu reinigende Konstruktion
Online-Anbindung zur Betriebsdatenerfassung und Fernwartung mit dem HEUFT TeleService