Pipeline inspection
---
---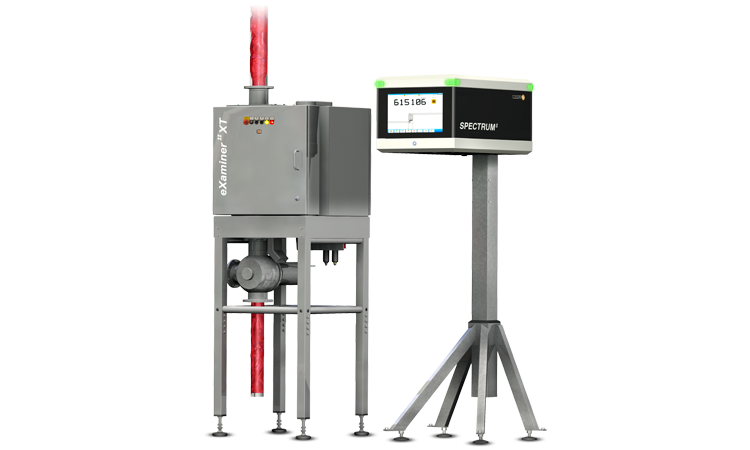 HEUFT eXaminer II XT
Foreign object identification in a liquid and paste-like product mass: first detecting and then packaging.
The HEUFTeXaminer II XT sets the standards for detecting foreign objects in a product mass which is still unpackaged such as sauce, jam, syrup, fruit and vegetable preparations, yoghurt, tomato paste or sausage meat precisely with computing power on a HEUFT SPECTRUM II level, further developed pulsed X-rays and more performance during real-time image processing. This makes the compact pipeline inspector of the new generation the optimal solution for all those who want to supply pre-inspected goods free of foreign objects or avoid food and packaging waste.
Single beam pipeline inspection
Looking even more precisely into the pipe: Optimised X-ray flash.
Pieces of metal, glass splinters or stones: only a single X-ray strobe is now sufficient in order to find such high density foreign objects in a liquid or paste-like product mass even before packaging. The pulsed X-ray technology found in the HEUFT eXaminer II XT is not only optimised for life but penetrates an even larger product volume in comparison with the previous version and at the same time covers a considerably wider area of the pipe. The single-beam technology with only one X-ray strobe, available exclusively from HEUFT, is therefore sufficient in order to achieve full detection reliability.
Read more...
The product mass is transported through a specially constructed, hermetically sealed pipeline for this purpose which is illuminated by means of an X-ray pulse lasting a millisecond. This extremely short exposure time reduces the radiation exposure as well as motion blurs to an absolute minimum. High-resolution images are produced of a complete section of the production flow even at high / fluctuating transport speeds. The further developed hardware and software for real-time image processing also provide greater precision during the detection: the HEUFT reflexxA.I now makes it possible to subdivide the objects identified in the full coverage X-ray images – and therefore a clearer distinction between critical high density foreign objects and harmless structures such as pieces of fruit, product inhomogeneities or air bubbles. Therefore only that is rejected which really threatens the safety of the final product.
Fault rejection
Preventing recalls: the optimised rejection of a contaminated product mass.
A signal is sent to a rejection valve at the exact time in order to remove the partial quantity in question accurately from the production flow when the HEUFT eXaminer II XT has detected a risk to food safety. This partial quantity is minimised due to the unique pulsed radiometric measurement which in turn reduces running production costs.
Performance validation
Playing it safe: self-diagnosis.
The pipeline inspector is equipped with a test program for validating the performance. It checks the detection performance at freely configurable intervals by sending up to four carbon fibre fingers prepared with different test objects into the radiation path by motor so that they can be verified and completely documented under real production conditions. This ensures that what should be found is always found. Foreign objects do not actually have to be introduced into the product flow in contrast to other pipeline inspectors. The food remains uncontaminated and does not have to be removed and destroyed specifically. This saves time, money and prevents unnecessary food waste. And it increases the reliability of the test run itself: a product contaminated with test foreign objects reaching the customer is out of the question.
HEUFT SPECTRUM

II
Simply automating: universal device platform for maximum performance.
Highly automated, universal and powerful: the HEUFT SPECTRUM II ensures optimum detection and operational reliability during an in-line quality assurance for the sustainable safeguarding of product quality and line efficiency.
Read more...
The cross-system control unit with multiprocessing capability for different modules, systems and applications convinces due to its exceptional degree of automation. Brand and format changes can be carried out without manual intervention. The unique human machine interface of the universal device platform is self-explanatory. Human resources are effectively saved in this way. In-house developed hardware and software of the latest generation and a future-proof network connection achieve highest computing power and data transmission in real time. The result: maximum precision during purposeful product tracking, inspection and rejection.
HEUFT reflexx A.I.
Simply detecting more: real-time image processing with individual teaching in procedure.
Fast, high-resolution and smart: the new generation of in-house developed hardware and software for image processing provides four times the processor speed of its predecessor. It converts the images of the individual camera or X-ray units into high-resolution, noiseless detection pictures in real time.
Read more...
At the same time the HEUFT reflexx A.I. not only carries out the specific detection of the most varied objects but also their individual classification using up to 50 different characteristics such as size or texture: uncritical characteristics can be quite simply taught in as good objects. The containers in question are therefore no longer rejected. Only that which really has to be removed is rejected. This reduces the false rejection rate and upholds the efficiency and productivity of the complete filling line.
HEUFT NaVi
Simply knowing what to do: self-explanatory audiovisual user guidance.
Intuitive, individual and audiovisual: previous knowledge is not required in order to operate the HEUFT SPECTRUM II systems reliably. The HEUFT NaVi user guidance is self-explanatory and supports the respective user step by step.
Read more...
An RFID login with user-related access rights provides an overview and makes the respective user's work simply easy: he only sees what he really needs to on the clearly arranged touchscreen user interface with a flat menu structure, integrated tutorials and precise auxiliary tools in order to fulfil his specific tasks optimally. He is supported by a virtual assistant in the course of this. She speaks to him and clearly explains what has to be done when and where. Purposeful and focussed on the essentials – the audiovisual HEUFT NaVi user guidance makes the reliable operation of HEUFT systems simply easy!
HEUFT checkPoints
Simply seeing where what has to be done: trouble-free localisation.
Clear, direct and purposeful: the user can cope immediately on the rare occasions when manual intervention is needed. Because eye-catching HEUFT checkPoints make it clear at a glance exactly when it is necessary to take matters in hand in addition to the audiovisual information which the HEUFT NaVi provides.
Read more...
The orange tags not only flash on the touchscreen but also at the respective component if the worst comes to the worst. The problem is located without a long search. This saves time and human resources, shortens standstills and therefore increases productivity.
Network technologies
Networking everything: online connection for increased efficiency and quality.
Information transmission in real time, production data acquisition, line analysis and remote maintenance: networking is the answer!
Read more...
HEUFT systems have future-proof network interfaces (Gigabit Ethernet and TCP / IP) for an online connection via the Internet and the database interface (SQL / DDE) for top line efficiency and an optimum quality management with considerably faster and easier workflows. Therefore production data, shift records, productivity faults and HACCP limit value analyses are available network-wide. The result: early identification of quality and efficiency problems. The firewall protected direct connection to the HEUFT TeleService makes competent remote maintenance possible all around the clock.
HEUFT CleanDesign
Cleaning quite simply: hygiene-optimised construction.
Accessible, clean and safe: its HEUFT CleanDesign predestines the system for use in hygienically sensitive areas.
Read more...
Sloping surfaces facilitate cleaning and prevent the accumulation of stubborn dirt. Special channels and openings allow the liquids required for cleaning purposes to be drained off completely. Consequently dangerous germs and bacteria have no contact surface whatsoever. Specially constructed casings and doors create optimum accessibility. The electronics are totally encapsulated. Sensitive areas such as the inspection units are dust-proof and protected against contact as well as water jets.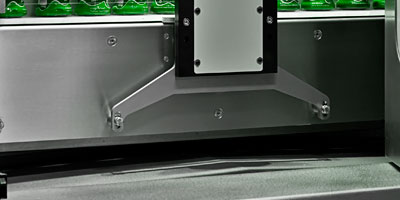 high-precision X-ray inspection of a liquid and paste-like product mass even before packaging
optimal solution to ensure the supply of pre-inspected bulk goods free of foreign objects
effective protection against food and packaging waste
more detection reliability than that obtained when inspecting already packaged food
sustainably optimised pulsed X-rays for even more coverage and precision when detecting foreign objects with unequalled low radiation levels
motion blurs minimised due to extremely short exposure times

reliable detection even at high or fluctuating transport speeds
optimised differentiation between supposed and real risks to product safety due to the further developed HEUFT reflexxA.I image processing system
powerful HEUFT SPECTRUM II platform for maximum automation with the audiovisual HEUFT NaVi user guidance
self tests for performance validation
online connection e.g. for reliable production and quality data acquisition as well as for remote diagnosis and maintenance via the HEUFT TeleService
compact construction in accordance with the hygiene-optimised HEUFT CleanDesign