Empty container inspection
---
---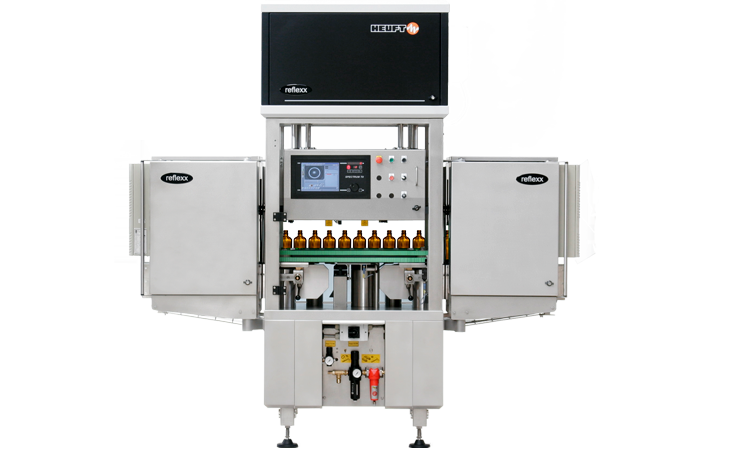 HEUFT InLine
Covering everything: a continuous inspection of pharmaceutical primary packaging.
An all-around inspection of pharmaceutical containers such as jars, vials, flacons or bottles before the filling process – the HEUFT InLine solves this task using a minimum amount of space whilst providing maximum inspection quality. Glass faults, foreign objects and dirt are detected by the compact empty bottle inspector particularly precisely. The HEUFT InLine covers the whole container volume completely with its base, finish and 360° sidewall inspection.
Optical base inspection
Covering everything: continuous complete inspection of the total container base.
The system carries out an optical complete inspection of the container base in order to detect low density foreign objects reliably.
Read more...
An illumination without reflections or shadows and specially positioned high-performance cameras even make transparent and reflecting faults visible. The HEUFT reflexx A.I image processing system combines and analyses the detection pictures in real time.
Finish and thread inspection
Finding defects and cracks: safety around the container opening.
Defects, cracks and dirt on the container finish and defects on the thread: the system has an ingenious technology for an optical finish and thread inspection in order to find such faults before they can endanger product safety. It not only covers the complete sealing surface but also the whole underchip / thread area.
360° sidewall inspection
Inspecting all around: specific rotation for full coverage.
Dirt, defects and cracks: anyone wishing to detect such quality flaws reliably cannot afford to ignore an all-around inspection. After all the sidewalls of the pharmaceutical primary packaging should be covered completely.
Read more...
Therefore the containers are each specifically rotated between two photographs taken with specially positioned high-performance cameras. The HEUFT reflexx A.I image processing system combines the photographs without reflections or shadows into extremely clear detection pictures which cover the complete container volume by more than 360°. Therefore sidewall faults can no longer be overlooked.
Fault rejection
Preventing recalls: the reliable rejection of faulty containers.
Fast, careful and accurate: highest precision when detecting faults is only effective if the products in question are also removed afterwards. The single-segment and multi-segment rejection systems of the HEUFT rejector series deal with this both precisely and carefully.
Product monitoring and self-tests
Playing it safe: exact product tracking and regular self-tests.
Always knowing the current location of a particular product: each one is tracked precisely for this. This ensures that none remain uninspected.
Read more...
The integrated reject verification checks that each product identified as faulty is really removed. Standard test programs guarantee a regular examination of the detection performance. Network-based continuous documenting and long-term archiving of the results.
Optional additional functions
Detecting even more: extensions to the range of functions.
The HEUFT SPECTRUM systems with their modular design can be extended at any time. Thus the optionally available colour ring inspection provides even more detection accuracy during the finish inspection. Even thermal cracks, tension cracks and other faults without the loss of material are detected reliably. In addition a special optical technology for the precise inspection of the inside of the finish is available upon request.
HEUFT SPECTRUM TX
Controlling centrally: one platform for all requirements.
Precise, network-compatible and cross-system: the HEUFT SPECTRUM TX forms the basis for different technologies, modules and functions. The devices of the generation of the same name can be exactly adapted to individual requirements on site and retrofitted at any time due to this universal platform.
Read more...
A cross-system component equality of 70 per cent ensures a high availability of spare parts. The central HEUFT SPECTRUM TX control unit creates a high level of precision during continuous product tracking and quality assurance due to its multiprocessing capability. A future-proof network connection ensures reliable remote maintenance and production data acquisition for optimum efficiency and productivity. In-house developed hardware and software and its own operating system ensure computing power and offer no opportunity for viruses or malware.
HEUFT reflexx
Combining photographs and reliably detecting objects: image processing in real time.
Fast, powerful and exact: combining several camera and X-ray images with each other and specifically detecting various objects. The HEUFT reflexx carries out all this in real time.
Read more...
The in-house developed hardware and software provides high computing capacity and is exactly tailored to the requirements of the in-line quality inspection. It generates high-resolution, noiseless detection pictures and analyses them precisely. Integrated filter technologies clearly differentiate between supposed and actual faults. This reduces the false rejection rate sustainably.
HEUFT PILOT
Operating HEUFT systems reliably: graphical user interface with practical tools.
Clear, helpful and specific: the HEUFT PILOT graphical user interface convinces due to an easy to understand, multilingual menu structure with extensive auxiliary tools. Therefore the reliable operation of the HEUFT SPECTRUM TX systems is not difficult.
Read more...
Important information and clear error messages with service notes provide the respective user with specific support. This avoids incorrect adjustments and shortens standstills e.g. during brand changes. Password protected operator levels adapted to the respective area of responsibility also contribute to this. Also integrated: a complete online user manual and a tool for the uncomplicated identification and direct ordering of spare parts.
Network technologies
Networking everything: online connection for increased efficiency and quality.
Information transmission in real time, production data acquisition, line analysis and remote maintenance: networking is the answer!
Read more...
HEUFT systems have future-proof network interfaces (Gigabit Ethernet and TCP / IP) for an online connection via the Internet and the database interface (SQL / DDE) for top line efficiency and an optimum quality management with considerably faster and easier workflows. Therefore production data, shift records, productivity faults and HACCP limit value analyses are available network-wide. The result: early identification of quality and efficiency problems. The firewall protected direct connection to the HEUFT TeleService makes competent remote maintenance possible all around the clock.
HEUFT CleanDesign
Cleaning quite simply: hygiene-optimised construction.
Accessible, clean and safe: its HEUFT CleanDesign predestines the system for use in hygienically sensitive areas.
Read more...
Sloping surfaces facilitate cleaning and prevent the accumulation of stubborn dirt. Special channels and openings allow the liquids required for cleaning purposes to be drained off completely. Consequently dangerous germs and bacteria have no contact surface whatsoever. Specially constructed casings and doors create optimum accessibility. The electronics are totally encapsulated. Sensitive areas such as the inspection units are dust-proof and protected against contact as well as water jets.
HEUFT rejector
Removing faulty products: the right rejector for all cases.
For example, the single-segment HEUFT mono rejector as well as the multi-segment HEUFT DELTA-FW and HEUFT DELTA-K systems are ideally suited for the reliable rejection of faulty empty containers.
continuous complete inspection of the total container volume
powerful optical detection technologies
high detection accuracy and low false rejection rate
compact construction in accordance with the hygiene-optimised HEUFT CleanDesign
simple upgrading and retrofitting due to modular system structure
attractive price and short delivery time due to series production
online connection for remote maintenance and production data acquisition
floor space - < 1 m²
performance range – up to 1,200 containers per minute
false rejection rate – less than 0.5 %