Full case check
---
---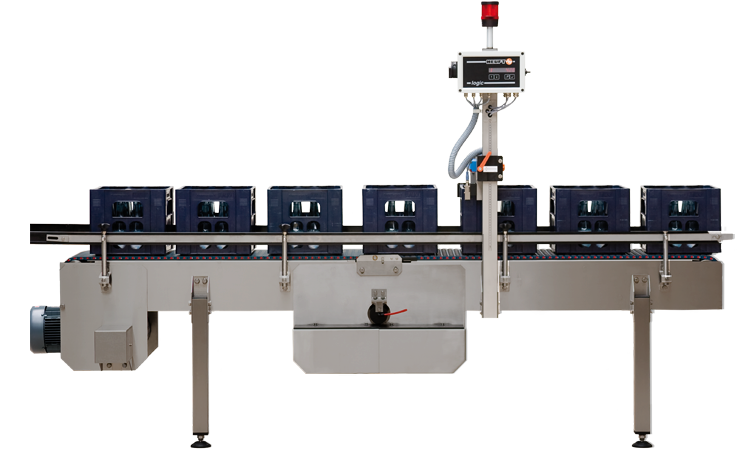 HEUFT logic
Finding gaps: sorting out incomplete full cases.
Courage to leave gaps? This is completely out of place along a filling line. Cases which are not completely filled with bottles, jars or cans should not leave it in the first place. The HEUFT logic tracks down such gaps in cases, cardboard boxes and trays without contact. It removes faulty full cases from the production flow using proven HEUFT rejection systems.

Case check
Identifying incomplete cases: a continuous check.
With gaps, incomplete and incorrect: the HEUFT logic checks cases with such defects immediately after the packer using an optical or electromagnetic procedure. Several sensors inspect the case completely depending on the number of columns and compartments.
Read more...
They are fastened to a sensor carrier above the conveyor. Its height can be adjusted and adapted to the most varied cases. Regardless of the type of closures used: the HEUFT logic can be ideally adapted to the respective requirements on site due to its specific sensor system. The standard device evaluates the signals received reliably: cases with incomplete contents are sorted out.
The rejection of faults
Preventing recalls: the reliable rejection of faulty cases.
Fast, careful and accurate: highest precision when detecting faults is only effective if the products in question are also removed afterwards. The device either emits a conveyor stop signal or activates the corresponding rejection system, such as the HEUFT xcase, in order to remove incomplete cases, cardboard boxes or trays from the production flow.
Control board with multi-segment display
Working without any problems: intuitive operation.
Cross-language, clear and very easy: it is not difficult to operate the HEUFT logic reliably. The number of full cases identified as being faulty is shown, among other things, on an LED display on the front.
Read more...
All the menus and information are displayed on the clearly arranged multi-segment display as icons independent of the respective language. They can be selected and retrieved at the push of a button without difficulty. The user finds his way around quickly. Special access codes protect certain functions and adjustments. This ensures that they are only carried out by authorised users.
Removing faulty cases:
the right rejector for all cases.
Discharging, rejecting and distributing: HEUFT rejection systems for packaging remove faulty crates, cardboard boxes, trays or shrink wrap packages reliably from the production flow. They achieve maximum performance optimally matched to their respective task with regard to precision and carefulness.
fully automatic monitoring of the product quality
up to four brands can be pre-programmed
vertically adjustable detection units for adapting to the different case sizes
easy to read LED display for all the counters
compact, space-saving construction for simple integration into existing lines
high degree of reliability due to maximum integration density of the electronics
false rejection rate < 0.5%
extremely good value