Full product check
---
---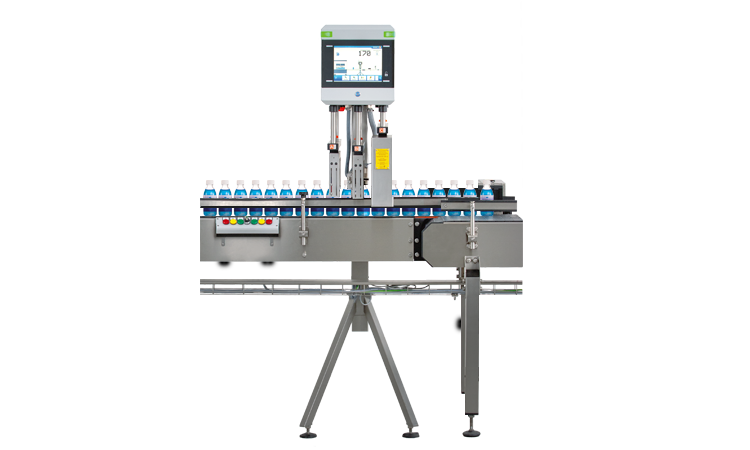 HEUFT PRIME
Finding quality defects quite easily: compact full product check with self-explanatory user guidance.
Inspecting the fill level, checking the presence, position and tightness of closures, detecting unlabelled pharmaceutical, cosmetic and care product containers as well as serial faults and consistently rejecting faulty products: this is easier than ever before with the HEUFT PRIME ! Because the compact full product check combines different detection technologies with a high degree of automation and the audiovisual HEUFT NaVi user guidance.
Fill level detection
Finding underfills and overfills reliably: the right technology for each application.
Too little, too much or exactly right: the HEUFT PRIME can be perfectly equipped with different detection modules for a precise fill level detection.
Read more...
It checks the filling quantity of transparent pharmaceutical primary packaging with infrared technology highly precisely. The high frequency measurement provides exact results for all types of non-metal containers. X-ray technology for determining the filling quantity exactly is used in the case of opaque primary packaging material.
Closure detection
Checking the tightness: special procedures for different closures.
Missing, incorrectly positioned and leaking: the HEUFT PRIME identifies closure faults such as these reliably. Different procedures are used for this: it checks the presence and position with special sensor and optical technologies. Therefore missing closures or closure elements which are too high are noticed immediately. The same applies to deviating closure curvatures which draw conclusions about the internal pressure and consequently the tightness of the containers.
Label check
Paying attention to the labels: specific examination of the presence.
Collar, body, neck or wrap-around label: there must not be any missing! The HEUFT PRIME checks whether this is really the case by means of special sensors which make use of the different reflection characteristics of the container surface and the label. Therefore it is immediately clear when one or several of them are missing. The sensors can be directly integrated in the labeller. A presence check is also possible whilst the containers are being transported on the conveyor as an alternative.
Serial fault detection
Noticing the repeated occurrence of defects in good time: locator for safeguarding productivity.
Specific, in good time and sustainable: the HEUFT PRIME prevents faults from becoming serial faults and impairing the productivity of the complete filling and packaging line. For example an integrated locator function records when a particular filler valve regularly underfills in good time.
Read more...
A switch-off pulse is emitted when the number of faulty fillings exceeds a certain, individually adjustable threshold value. Therefore malfunctions can be rectified before they can threaten the safety and quality of complete batches and cause rejection rates which are too high. The HEUFT PRIME also notices recurring closure and labelling faults in good time and prevents these from going into production and thwarting the efficiency and productivity of the whole line by means of a stop signal.
Fault rejection
Preventing recalls: the reliable rejection of faulty containers.
Fast, careful and accurate: highest precision when detecting faults is only effective if the products in question are also removed afterwards. The single-segment and multi-segment rejection systems of the HEUFT rejector series deal with this both precisely and carefully.
Product monitoring and self-tests
Playing it safe: exact product tracking and regular self-tests.
Always knowing the current location of a particular product: each one is tracked precisely for this. This ensures that none remain uninspected.
Read more...
The integrated reject verification checks that each product identified as faulty is really removed. Standard test programs guarantee a regular examination of the detection performance. Network-based continuous documenting and long-term archiving of the results.
HEUFT NaVi
Simply knowing what to do: self-explanatory audiovisual user guidance.
Intuitive, individual and audiovisual: previous knowledge is not required in order to operate the HEUFT PRIME reliably. The HEUFT NaVi user guidance is self-explanatory and supports the respective user step by step.
Read more...
An RFID login with user-related access rights provides an overview and makes the respective user's work simply easy: he only sees what he really needs to on the clearly arranged touchscreen user interface with a flat menu structure, integrated tutorials and precise auxiliary tools in order to fulfil his specific tasks optimally. He is supported by a virtual assistant in the course of this. She speaks to him and clearly explains what has to be done when and where. Purposeful and focussed on the essentials – the audiovisual HEUFT NaVi user guidance makes the reliable operation of HEUFT systems simply easy!
HEUFT checkPoints
Simply seeing where what has to be done: trouble-free localisation.
Clear, direct and purposeful: the user can cope immediately on the rare occasions when manual intervention is needed. Because eye-catching HEUFT checkPoints make it clear at a glance exactly when it is necessary to take matters in hand in addition to the audiovisual information which the HEUFT NaVi provides.
Read more...
The orange tags not only flash on the touchscreen but also at the respective component if the worst comes to the worst. The problem is located without a long search. This saves time and human resources, shortens standstills and therefore increases productivity.
Network technologies
Networking everything: online connection for increased efficiency and quality.
Information transmission in real time, production data acquisition, line analysis and remote maintenance: networking is the answer!
Read more...
HEUFT systems have future-proof network interfaces (Gigabit Ethernet and TCP / IP) for an online connection via the Internet and the database interface (SQL / DDE) for top line efficiency and an optimum quality management with considerably faster and easier workflows. Therefore production data, shift records, productivity faults and HACCP limit value analyses are available network-wide. The result: early identification of quality and efficiency problems. The firewall protected direct connection to the HEUFT TeleService makes competent remote maintenance possible all around the clock.
HEUFT rejector
Removing faulty products: the right rejector for all cases.
For example, the single-segment HEUFT flip and HEUFT mono rejectors as well as the multi-segment HEUFT DELTA-FW and HEUFT DELTA-K systems are ideally suited for the reliable rejection of faulty, filled containers.
all the basic functions for a full container check in one compact device
automatic vertical adjustment of all the detection units for easy and fast brand and format changes
self-explanatory HEUFT NaVi user guidance with integrated auxiliary tools and extensive audiovisual step-by-step assistance
clear touchscreen user interface concentrating on the essentials and rapid login with personalised access levels
attractive price due to series production
performance range – up to 1,200 containers per minute
reduction of the false rejection rate during the closure detection up to 0.01 %