Inspection of syringes and cannulas
---
---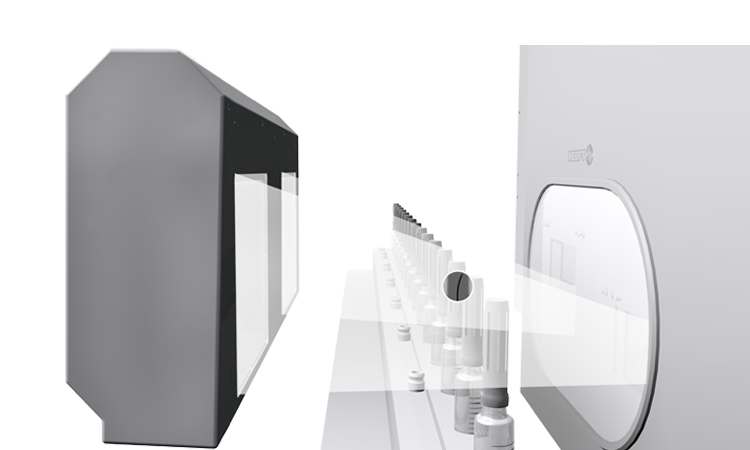 HEUFT Syringer
Examining injection instruments comprehensively: a specific fault detection.
The pulsed X-ray technology from HEUFT is ideally suited for a wide range of inspection applications as regards the quality assurance of pharmaceutical products. It is now available for directly integrating into packing machines for syringes and cannulas but also as a stand-alone solution: the HEUFT Syringer also identifies syringes with slightly pierced soft needle shields (SNS) and bent needles where conventional camera technologies could only detect complete piercing to the needle guard visible from the outside. Furthermore faulty sealing elements, not detectable from the outside, as well as canted tamper evident closures can be reliably identified. The extremely low level of radiation permits the use of X-ray technology for the first time immediately before filling the injection instruments with active pharmaceutical ingredients (APIs).
Needle and protective cap inspection
Identifying defective injection instruments in good time: inspection using pulsed X-ray technology.
Present, functional and safe: the HEUFT Syringer checks whether this is the case regarding the hypodermic needles of pre-filled syringes and their protective caps directly before being filled with APIs.
Read more...
For this X-ray flashes are emitted only lasting a thousandth of a second precisely at the moment when a product to be examined is in the inspection area. This minimises radiation exposure and at the same time prevents motion blurs in contrast to conventional X-ray scanners. Thus maximum detection reliability is guaranteed even during a high-speed inspection: syringes with bent needles or pierced protective caps are detected just as reliably as those with SNSs with internal piercing, faulty sealing elements or canted tamper-evident closures.
Detecting contamination and defects
Tracking down contaminated and defective injection instruments: inspection using pulsed X-ray technology.
Foreign matter, contaminants and defects: syringes and cannulas with such faults cannot escape the X-ray inspection either. Contamination and soiling inside them are identified just as reliably with minimum radiation exposure as defects on their surface.
Read more...
In addition it is therefore possible to accurately check that the pre-filled syringes have been corrected assembled. The inspection of up to 1,200 injection instruments per minute is both careful and precise because no permanent beam is emitted but merely X-ray flashes only lasting a millisecond.
Fault rejection
Preventing recalls: the reliable rejection of faulty containers.
Fast, careful and accurate: highest precision when detecting faults is only effective if the products in question are also removed afterwards. The single-segment and multi-segment rejection systems of the HEUFT rejector series deal with this both precisely and carefully.
Product monitoring and self-tests
Playing it safe: exact product tracking and regular self-tests.
Always knowing the current location of a particular product: each one is tracked precisely for this. This ensures that none remain uninspected.
Read more...
The integrated reject verification checks that each product identified as faulty is really removed. Standard test programs guarantee a regular examination of the detection performance. Network-based continuous documenting and long-term archiving of the results.
HEUFT SPECTRUM

II
Simply automating: universal device platform for maximum performance.
Highly automated, universal and powerful: the HEUFT SPECTRUM II ensures optimum detection and operational reliability during an in-line quality assurance for the sustainable safeguarding of product quality and line efficiency.
Read more...
The cross-system control unit with multiprocessing capability for different modules, systems and applications convinces due to its exceptional degree of automation. Brand and format changes can be carried out without manual intervention. The unique human machine interface of the universal device platform is self-explanatory. Human resources are effectively saved in this way. In-house developed hardware and software of the latest generation and a future-proof network connection achieve highest computing power and data transmission in real time. The result: maximum precision during purposeful product tracking, inspection and rejection.
HEUFT NaVi
Simply knowing what to do: self-explanatory audiovisual user guidance.
Intuitive, individual and audiovisual: previous knowledge is not required in order to operate the HEUFT SPECTRUM II systems reliably. The HEUFT NaVi user guidance is self-explanatory and supports the respective user step by step.
Read more...
An RFID login with user-related access rights provides an overview and makes the respective user's work simply easy: he only sees what he really needs to on the clearly arranged touchscreen user interface with a flat menu structure, integrated tutorials and precise auxiliary tools in order to fulfil his specific tasks optimally. He is supported by a virtual assistant in the course of this. She speaks to him and clearly explains what has to be done when and where. Purposeful and focussed on the essentials – the audiovisual HEUFT NaVi user guidance makes the reliable operation of HEUFT systems simply easy!
HEUFT reflexx A.I.
Simply detecting more: real-time image processing with individual teaching in procedure.
Fast, high-resolution and smart: the new generation of in-house developed hardware and software for image processing provides four times the processor speed of its predecessor. It converts the images of the individual camera or X-ray units into high-resolution, noiseless detection pictures in real time.
Read more...
At the same time the HEUFT reflexx A.I. not only carries out the specific detection of the most varied objects but also their individual classification using up to 50 different characteristics such as size or texture: uncritical characteristics can be quite simply taught in as good objects. The containers in question are therefore no longer rejected. Only that which really has to be removed is rejected. This reduces the false rejection rate and upholds the efficiency and productivity of the complete filling line.
Network technologies
Networking everything: online connection for increased efficiency and quality.
Information transmission in real time, production data acquisition, line analysis and remote maintenance: networking is the answer!
Read more...
HEUFT systems have future-proof network interfaces (Gigabit Ethernet and TCP / IP) for an online connection via the Internet and the database interface (SQL / DDE) for top line efficiency and an optimum quality management with considerably faster and easier workflows. Therefore production data, shift records, productivity faults and HACCP limit value analyses are available network-wide. The result: early identification of quality and efficiency problems. The firewall protected direct connection to the HEUFT TeleService makes competent remote maintenance possible all around the clock.
reliable inspection of syringes and cannulas inside the packing machine for the precise detection of faults which could not be detected until now
reliable examination of up to 1,200 syringes per minute
unique X-ray strobes instead of line scanner with permanent beam
maximum detection reliability with minimum radiation exposure
minimum false rejection rate due to HEUFT reflexx² real-time image processing
reliable audit trail documentation
safe fulfilment of the fundamental FDA, GMP, GAMP5 and 21 CFR Part 11 requirements